VMAX LINKS
First things first: Here's the link to the Dutch VMax Club, with Forum:
---
Here's a link that might come in usefull: the UK VMax Chat Website with it's messageboard.

---
This is cool: Cycle World had some-one test 5 "old" bikes and one of them was the VMax. Now he's grinning all night like we all are!!

---
Everything you always wanted to know about the


but were afraid to ask !!
Just go to INGO'S PAGES. If it's not on his pages,
it's not on the net !!
---
Best looking VMax in my opinion!! Ricardo's TORKEZILLA! His FZX is worth a look or two as well :))

---
This is cool: the VMax owner manual on-line. Don't know what that blinking red light means? Look it up on this page. Thanks Jean-Francois!
Want the VMax Service Manual? Then go to:
---
Here's another VMax link,

( and it's got the coolest navigation system I've ever seen ! )
---

Vmax's: the Vikings choice ! The banner above will take you to the
SWEDISH VMAXCLUB.
---

This is Cees Cornwall's site. Problems with your startermotor? He'll solve it like he solved mine !
---
Go see Andre's bike(s) on his pages. NITRO RULES !!! Also on his page, an overview of VMax articles over the years. Don't forget to take a look at the reviews of
"OPTION MOTO ",
a French magazine ( so French text only, but the pictures tell it all).
---
Want to see what Yamaha said theyhad in store for us VMAX lovers in 2000 ? Very sorry it didn't c0me on the market !!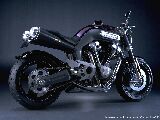 ---
Unbelieveable, yet another VMaxsite.