IRON MAN 3" SUSPENSION RAISE
---
I ordered the IronMan Suspensionraise when I just bought the Samurai a couple of months ago and it took just about forever to arrive with the boat from Australia and then it took customs 3 weeks to clear them !
Didn't know too much about Samurai's and all the possibilities in raising the little truck ( like SPOA: Spring Perch Over Axle ) when I bought it.
I already had the 3" Calmini Shackle Reversal and 2" DIY BodyLift on my Zuk when the package finally arrived, but defenately needed more room for the 33" tires. Before full lock the tires would hit the fenders.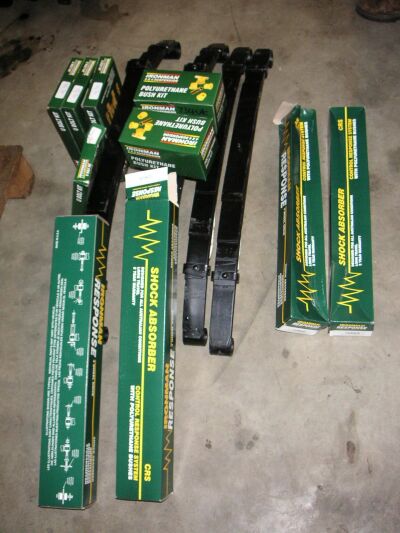 Felt like the holidayseason with all the presents ;-)
Next day I started on the front springs, removing the wheels for easy access, as you can see the 17 year old springs are starting to sag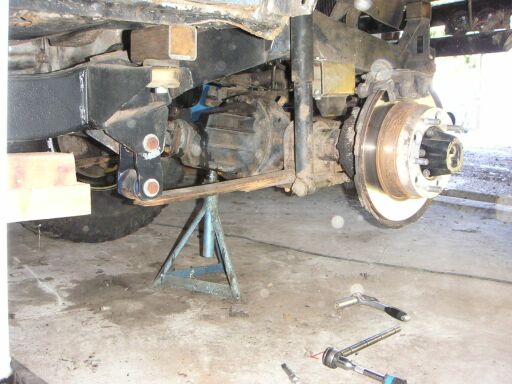 Below you can compare the difference in springs and shocks, the leafsprings being more arced and the shocks way sturdier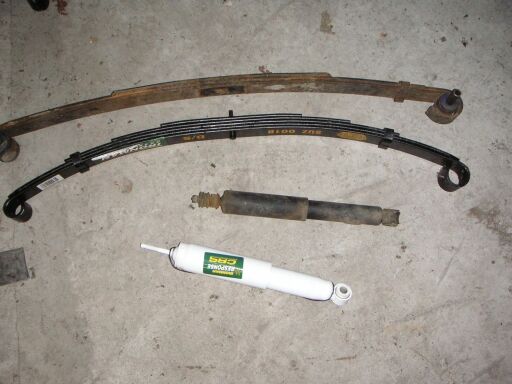 I started on the right side, easier I thought because there was no steeringsystem to get in the way. Taking it all apart was pretty straightforward, no complications and again that big advantage: this Samurai had never been Off-Road before I bought it, so all the nuts and bolts came loose without effort ! Took me a lot of effort to get the springs back on on my own, no-one to help me that day ( and I didn't want to wait another day longer ;-) ) Was hard to align the rear of the spring while working on the front of the spring.
Getting the U-bolts back on - longer and wider on the right side because of the diff - wasn't too bad and I used the old longer U-bolt on the left side to get one shorter U-bolt in, replacing it with the new short U-bolt when I had everything tightened ( just had to put the longer and wider U-bolt in a vise to narrow it to fit the left side )
Lift was immediatly obvious, but it was only about 6 centimeters, due to the package being a confortable ride ( for which I opted when I bought it, didn't want to bounce down the street )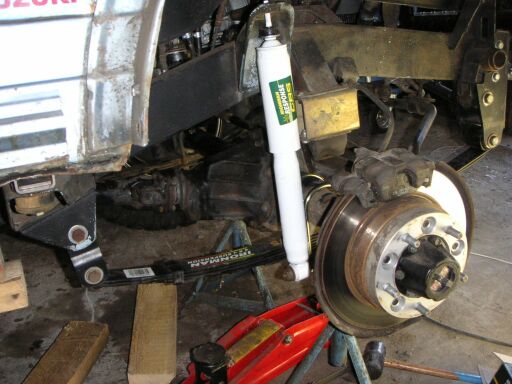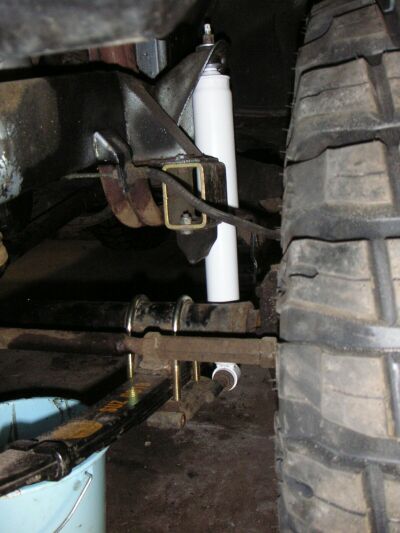 Only problem was that the shocks are for this 3" suspensionraise and with my 3"+ 2" lift already on the Sammie they are too short ! I had to lift the axle and stand on the fender to have my wife ( who - again - just came in to bring me some coffee ) put a nut on top of the shock.
Now with the wheel at full lock there's a little more room, but I cannot even get a finger between tire and fender and that's without compression !
There are a couple of options:
- go back to 31" tires and go for longer shocks
- go back to 31" tires and move the shockmounts higher up
- go SPOA
Did I want smaller tires ?? NO ! Did I want the Samuari even higher ?? YES, so SPOA it is going to be ! ( done )
Did not go on with replacing the rearsprings/shocks as I would have to take that all apart again to go SPOA, here's a comparisonshot from the front with the IronMan springs on on the right side of the car, you can see that 6 centimeters is a noticable ammount: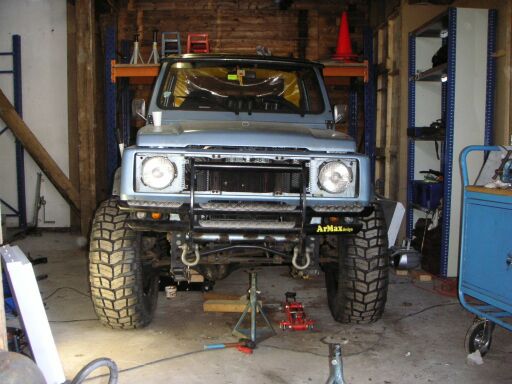 Shot from the side, IronMan springs only at the front again: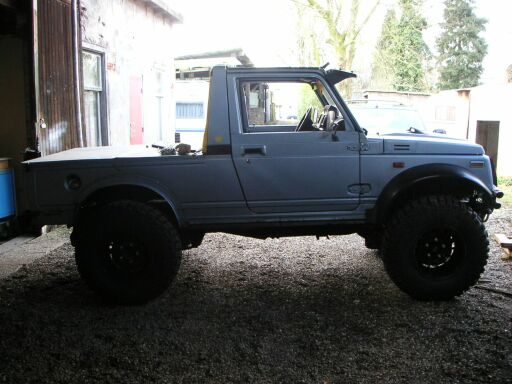 And to get an idea of how high it would be with the SPOA added I lifted the right side with a jack to the extra 4.5" that will give ( should have taken the frontwheel off for a better idea )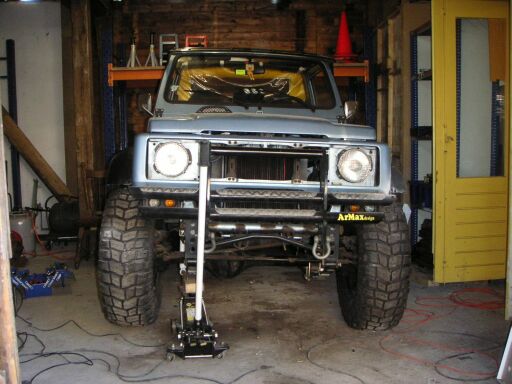 For the pics and text on the SPOA check the navigationbar on the left. ( done )