Welcome to my Samurai-Page
---
THIS IS THE MAIN PAGE ON THE STORY OF MY SAMURAI, LINKS TO THE PAGES WITH PICS AND TEXT OF ALL THE CHANGES I'VE DONE ARE ACCESSIBLE FROM THE NAVIGATIONBAR ON YOUR LEFT
---
We bought this little 1988 Long Wheel Base Suzuki Samurai today ( 10-10-2004 ) as a toy to go off-roading in.
We've always liked these brave little cars when we went off-roading with the Chevy, the little TonkaJeeps being able to use all of the circuit with their short wheel base ( as opposed to only the wider tracks with the big Chevy ).
Luckily the car is in good condition, only minor rust in the corners of the fenders, nothing serious !
From this little stocker: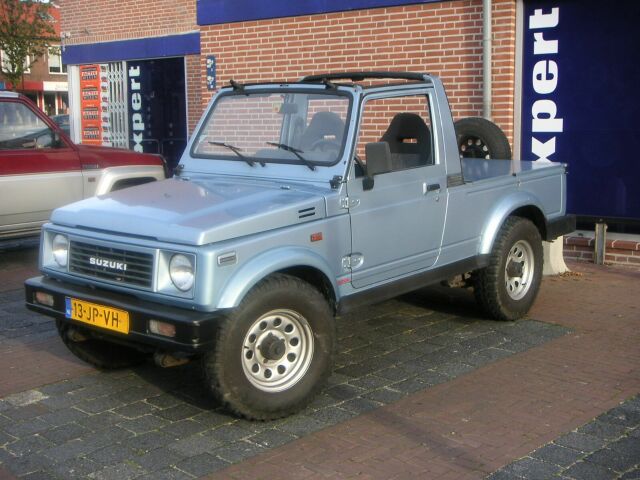 To this MiniMonsterTruck :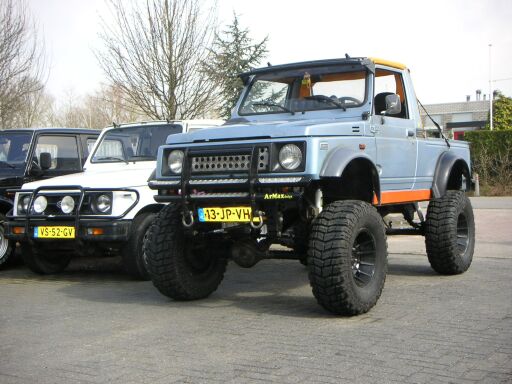 in 5 1/2 month including 1.6 engine conversion with Camden SuperCharger and 32/36 Weber, 4.16 T-case, a QuickLok locker in the rear and a total lift of 14 ", check the navigationbar on the left for the stories on all the changes! You will notice in the text I may write something that I plan to do that's already been done, but have had no time to update this page. Updates are in LightBlue !
I must warn you, as it says on the decal in front of my door: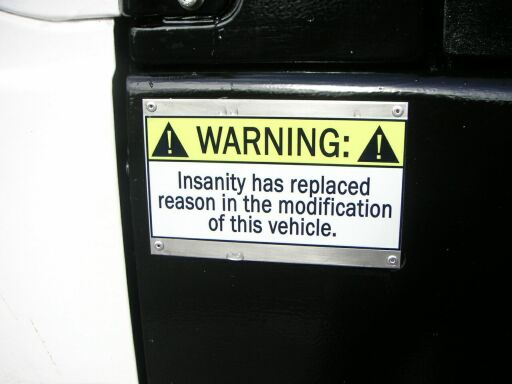 Pics:
Can you spot the difference ??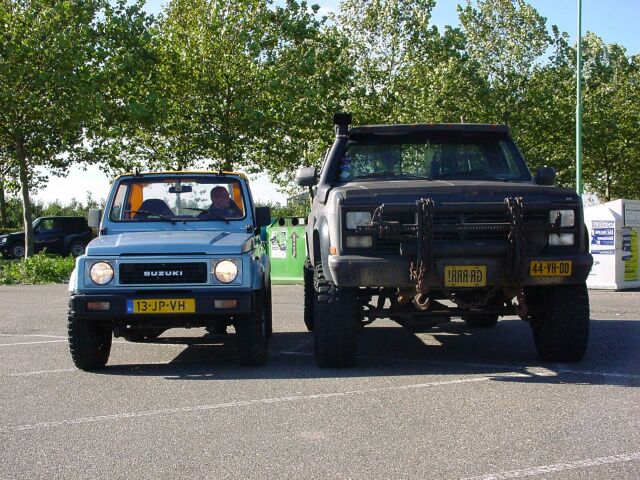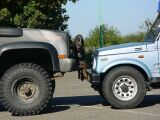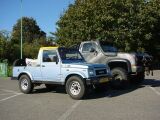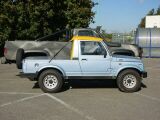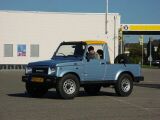 Topless !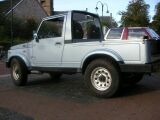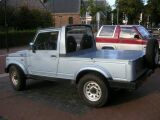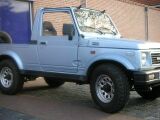 And of course we had to try if you can really take it all down ;-)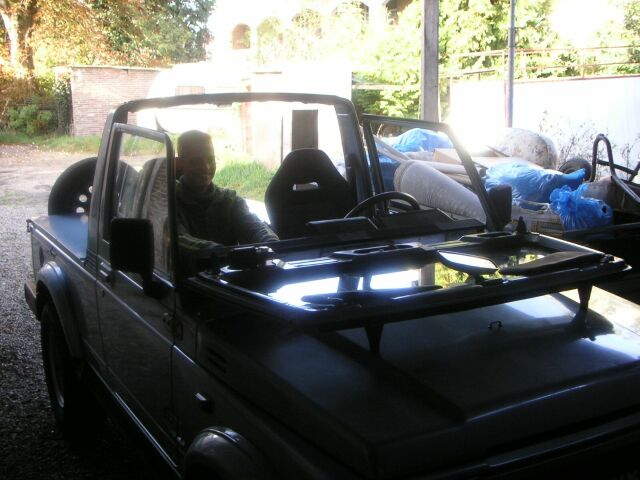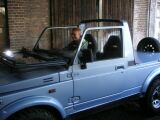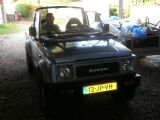 Are we having fun yet ???
The new tires: 33x12.5 ProComp XT's ( done )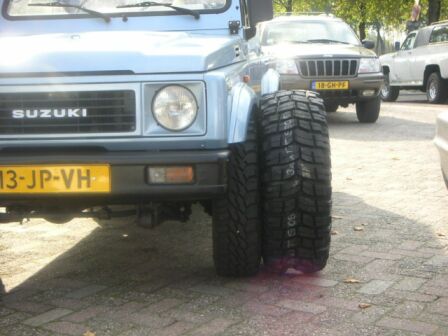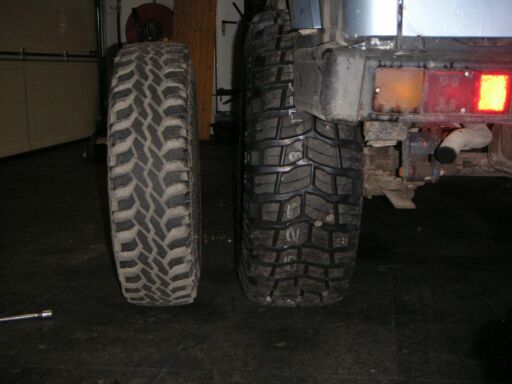 They DO make a difference don't they ?? ;-)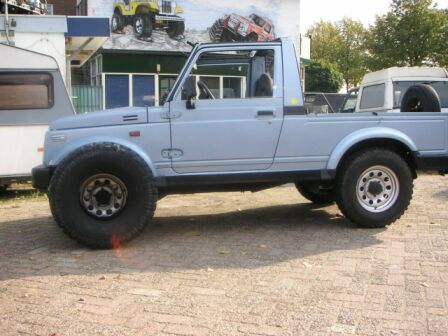 Bought these 15x8"DELTA wheels secondhand, sandblasted them and had them powdercoated black ( done )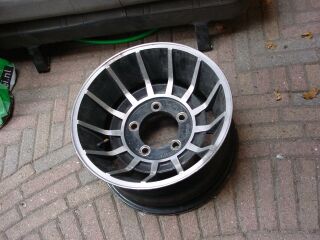 and then had the new tires fitted to them. Just for fun I put 1 wheel in front of the 35" CreepyCrawlers on the Chevy and they are about the same size ( made me a little worried to think these biiiiig tires were going to be under this tiny car, but after all the mods they fitted perfectly )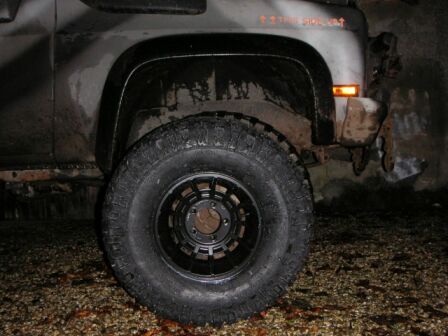 December 16th 2004: This is on the Samurai while trying to decide which size fenderflares I had to buy to cover the tires @ OffRoadCentre Utrecht ( went for the "small" version: 15 cm wide ):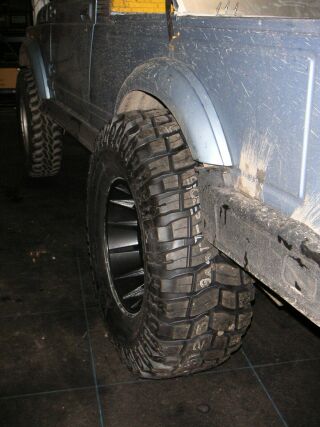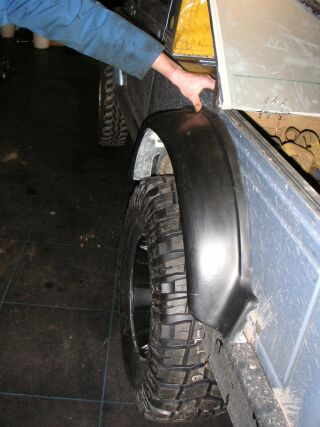 Now all I have to do is wait for the suspensionraise to arrive before I can fit the wheels ( done )
Picture of the new, revised T-case ( 4.16, reducing the low range with a whopping 83% and the hi range 12% ), running lower gears, so it will be able to keep speed in 5th gear on those big tires ( done, still needs a little more in Hi, so trying to decide wether I need a 6.1 T-case )
November 28th2004: It's on the Samurai now and the difference is incredible !! On the highway I can now keep up with normal traffic and in 4X4 it is astounding, pulling like a tractor in second, no need to touch the clutch going up or downhill or through deep mudpuddles !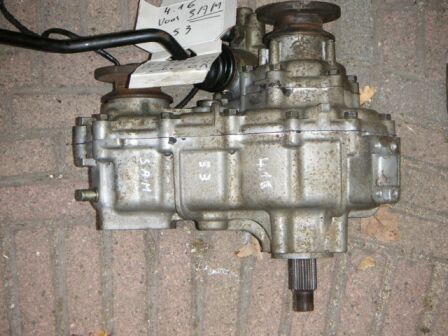 Steeringdamper I ordered from Rocky Road.Com, compared to the standard damper ;-) ( done )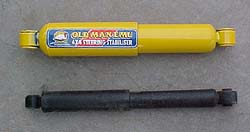 Off Road Centre, Utrecht had a 3"dropped Pitman arm in stock, to help bring the steeringforces down a bit, so the Z-link only has to be 3 more inches down ( instead of the 6 required ) ( done, ordered an ACME adaptors Extreme Hi-Steer set-up, which - in combination with the dropped Pitman arm - brings the steering arm almost back to horizontal )
And how about this :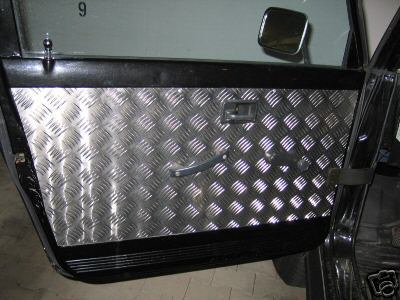 Diamond Plate doorpanels, ready to fit, holes for the handles and everything bought on Ebay Germany, no need to spend a day cutting ( and cursing ;-) )
Bought these fibreglass half doors from Off Road Centre Utrecht ( link on my "Links" page ) and they ordered Stainless Steel doorhinges, which I drilled and had pins made for, so changing from the original steel doors to these will take about 2 minutes. ( Pics and text of the hinges are accessable through the link in the navbar on the left ) ( done, but didn't use the SS hinges in the end, just cut the original hinges )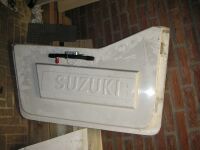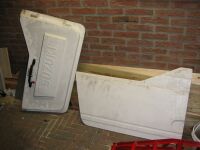 On Ebay Germany I found this very nice Diamond plate toolbox that goes under the hood in the space just in front of the bulkhead/firewall on the driversside, with enough space for some usefull tools ( And always warm gloves ;-) ) ( done, it even has a small vice bolted to the topplate, upside down so if I open the box and turn the lid I have a small bench )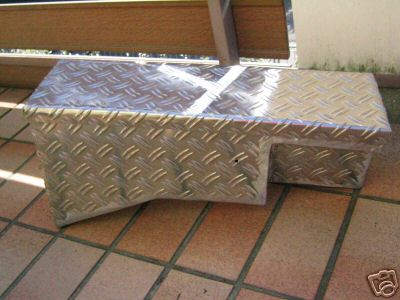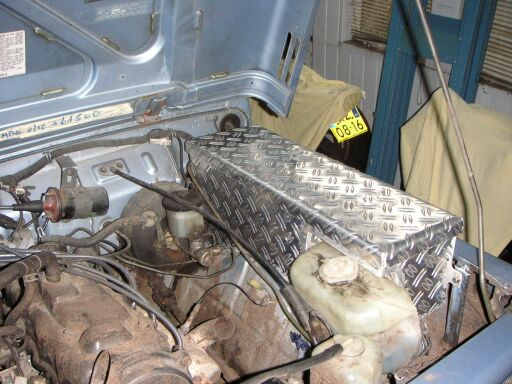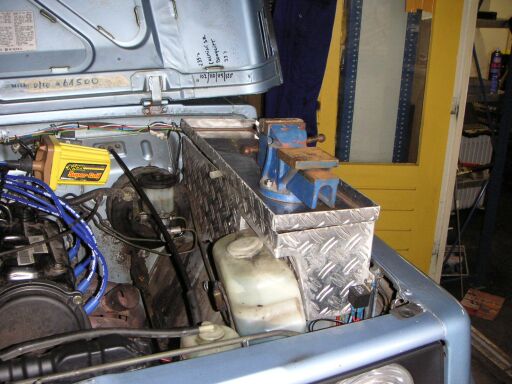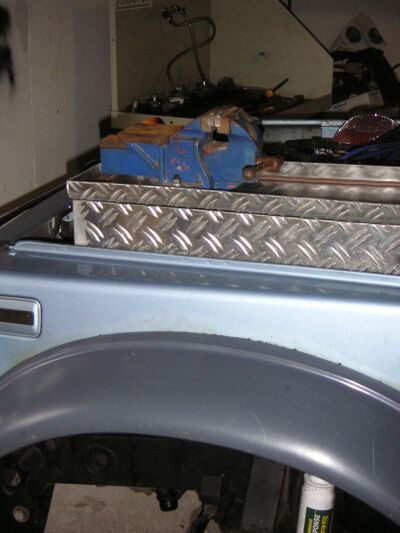 December 17th 2004: Bought H@@P-style chrome mirrors on Ebay.co.uk ( done, later found out that Suzi's Place in Buren has loads of these in stock ) :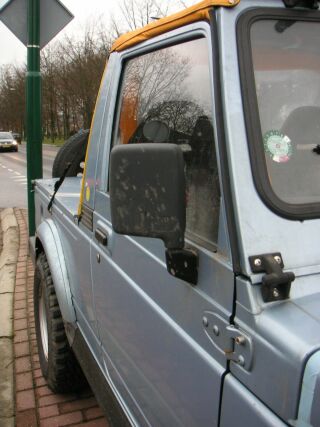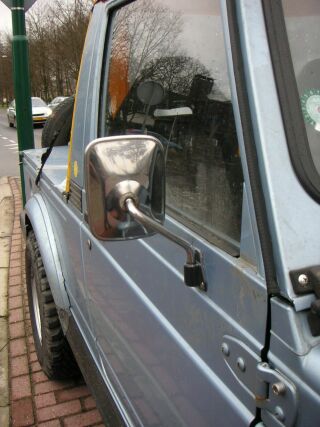 Well, of course I never thought I'd own one of these !!!!!!!!!!!!!!!!!!! Just dreamt about them after reading some articles on the Internet but look what happened today ( 24-12-2004 ), I went by Suzi's Place in Buren, a town only 20 km from my house to pick up the header I bought for the Sammie and look what they ( literally ! ) found in the attick.......................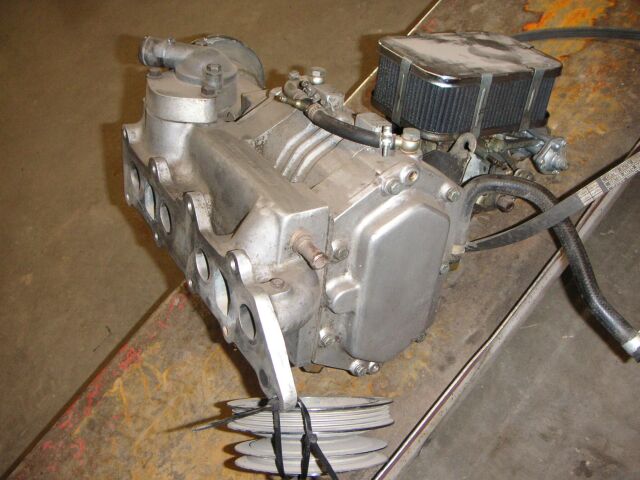 Yes, a Camden 5" SuperCharger with a 32/36 Weber carb. Together with the specially designed British "JanSpeed" headers ( below ) and - still to be made - 2" exhaust system with free flowing "silincer" this will become one screaming Sammie !! ( done, and it ís a screaming Sammie, with loads of torque )
Especially since my wife just ordered a 1600 cc Vitara/Sidekick engine @ Suzi's Place !! ( done )
I was asking around and trying to figure out how this conversion would have to be done, Prices of the secondhand 1600 engine weren't that bad ( compared to the prices I'm used to, driving that big V8 Chevy ) so I was thinking about doing the swap somewhere this summer. Cora decided it would be foolish to put everything on the 1300 cc engine and than changing it all again for a 1600 engine, why not do it right the first time. Well, who am I to argue ;)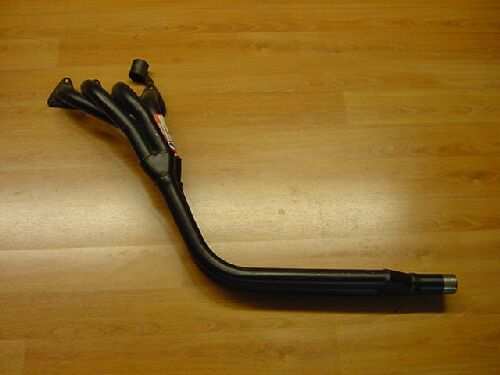 Today 07-01-2005
I bought a very cool Sunvisor @ OffRoad Centre, Utrecht when I was there to pick up some stuff I ordered.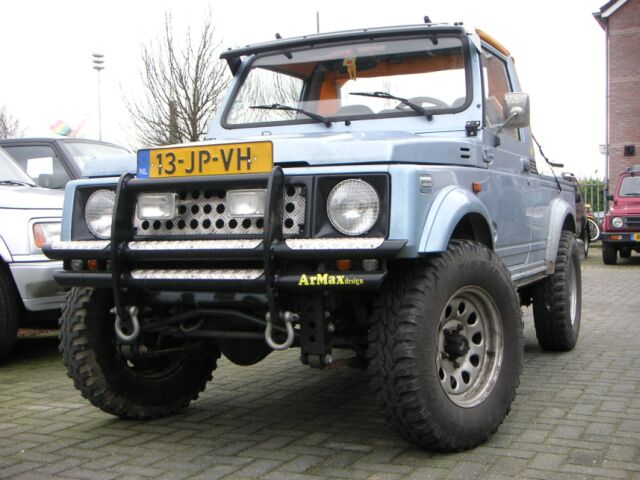 It is popriveted to the doorposts, which are hidden by the door. Guess I have to cut the mountingbrackets, so I can take it off when I'm in the woods, branches might catch behind it and break the visor. Better make it removable. ( done, but didn't make it removable ( yet ))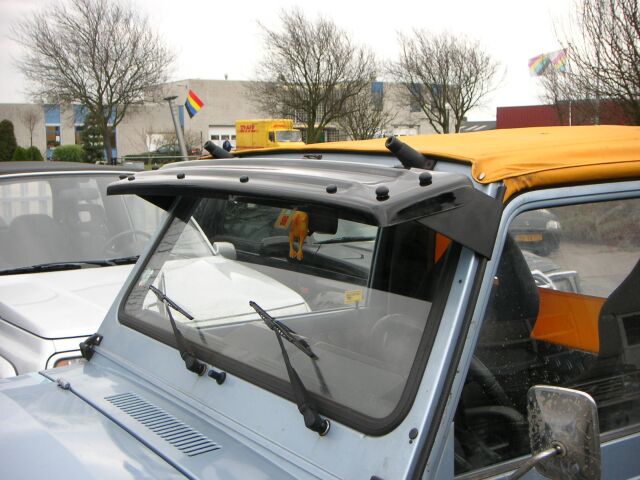 And yes: I realise that I cannot lower the frontwindow anymore, but let's be honest: would that happen possibly more than once a year ?
Oh right, the stuff I actually went to pick up @ OffRoadCentre;-) :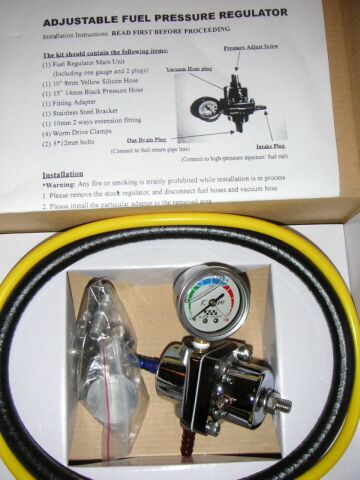 Adjustable fuelpressure regulator, so I don't have to open the hood before and after off-roading to reset the pressure regulator I need with the Weber ( put it on 3 psi for off-road and back to 2 psi for on-road ) This one does it all by itself, even going down to 0.5 psi on idle. It will be fed by a 5 psi electric fuelpump which will be monuted near the fueltank. ( done and took it off again, wasted loads of cash on something that didn't work properly and which I don't seem to need Off-Road after all. I did buy a special Jeep fuelfilter with a return to the fueltank which I mounted just before the carb )
January 9th 2004:
Put on new discbrakes and pads, old ones weren't too bad, but noticed the steeringwheel "shimmy-ing" when braking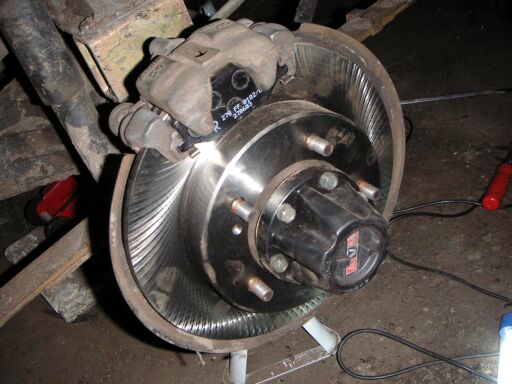 Too much "BLING" for my Samurai, get some mud on it soon ;) Also "repaired" the windshield washer, I got the tube stuck between the frontwindowframe and the body when I put the frontwindow up last time.
January 15th 2005
To keep an eye on everything under the hood I ordered some gauges and a 2 and 3 gauge pod. Today I started connecting them, making all the electrics into one big tube, with 6 colours wiring, watertemp.feeler, Turbo-boostline and oilpressureline. I've also put in a bright red oilpressurelight next to the pressuregauge, the original one in the dash is hardly visible behind my hand when driving.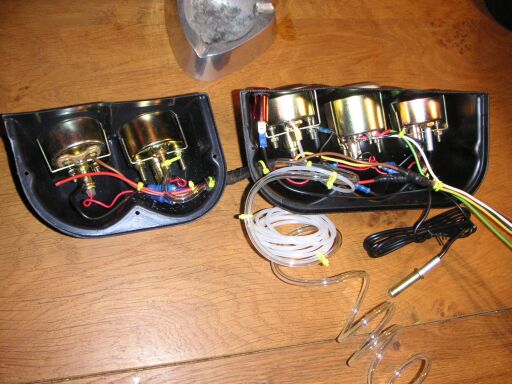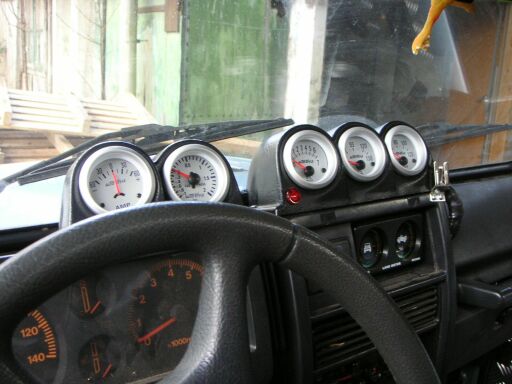 I can now keep an eye on: Charging, SuperChargerboost, Oiltemperature, Oilpressure ( gauge and light ) and Watertemperature........well, had to make a big hole in the dash for all the wiring. ( done )
Update January 29th:
Been working on the Zuk again, together with Mustang ( of course ;-) ), the lights on the gauges are working now, but not one of the gauges is connected, couldn't figure out the way the Am-meter is supposed to be hooked up ( to what with which gauge wire )? For the temperaturesensors I have to make up some housings to put them in their respective systems. Oillight works fine, good and clear ! We also put in a CB-radio, always nice to have to chat to your friends off-road. ( done, all works now )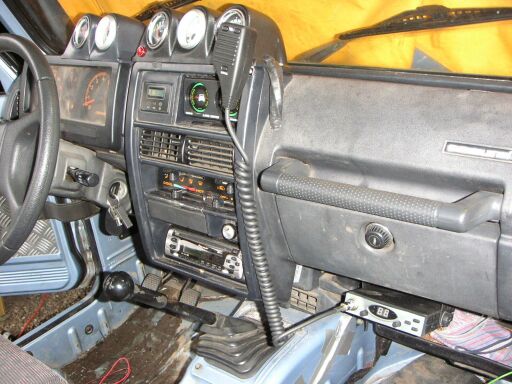 In case of : Better safe than sorry, I bought a Fire-extinguisher when we were welding, didn't need it and put it in the car.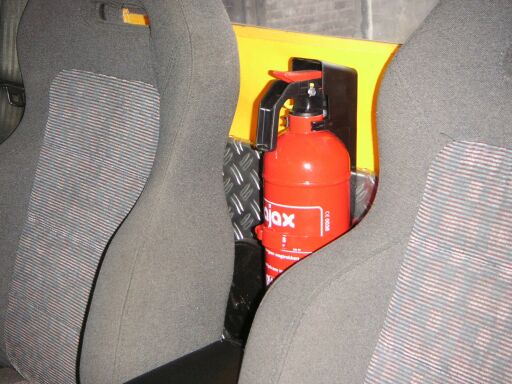 We've been woking on the sills as well, I took of those hidious rubber "Rocker-panels" and their skinny metal "reinforcements", because I want some serious "Rocksliders"although we do not have too many rocky terrains here, landing on a treestump might just as well crunch the sills ( and besides: it looks cool ;-) ) I have plans ready for SHROCKWORK type sliders. ( done, Check : REARBUMPER & SIDEBARS )
---
Here's a rollcage we saw at a Off Road event. We are going to copy it ( we asked the guy that built it )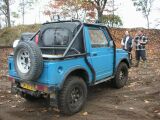 Or like this: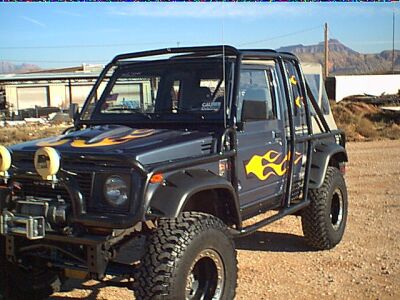 ---
OCTOBER 29th 2004
We've already started on a new frontbumper. You can see the pics and read the story HERE !
( done )
---
A friend of mine had some time on his hands and PhotoShopped some pictures I sent him to create the pic below, This is what it will look like with all the suspension goodies !!
Thanks B8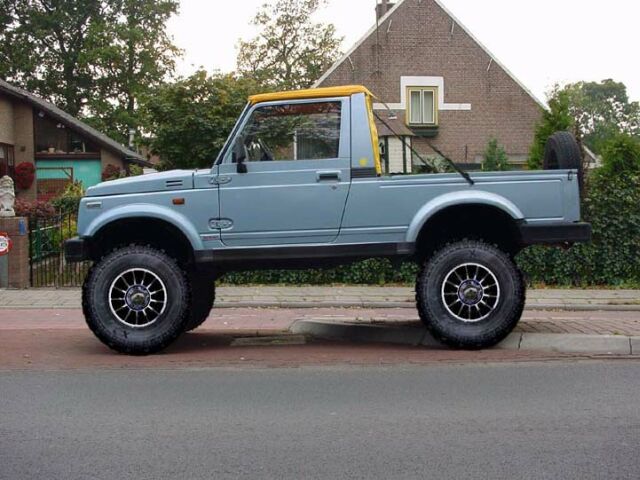 And then he PhotoShopped it in the colors I want it to be
( almost done, today - 14-09-2005 - I finished painting the Zuk Hamerite Black with Hamerite White doors, "Official H2 Recovery Vehicle" decals for the doors ( both sets ) will be ready next week ) :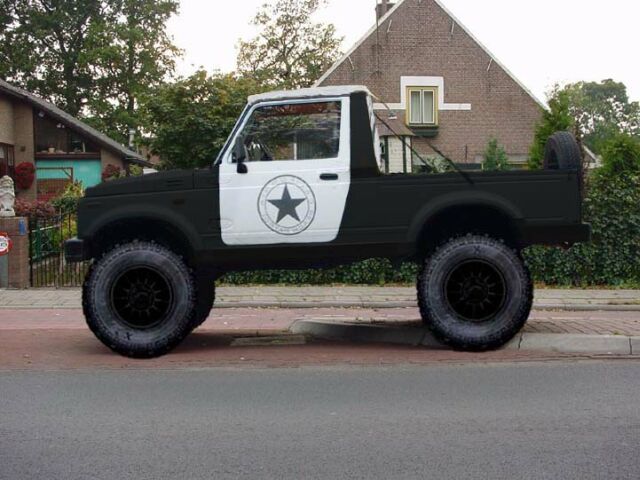 Great isn't it ?
---
What we want it to look like ?? Something along the lines of: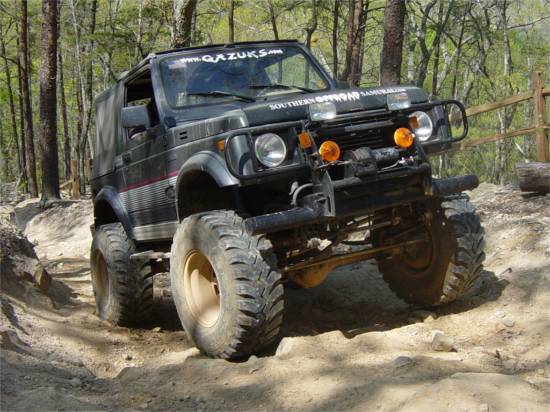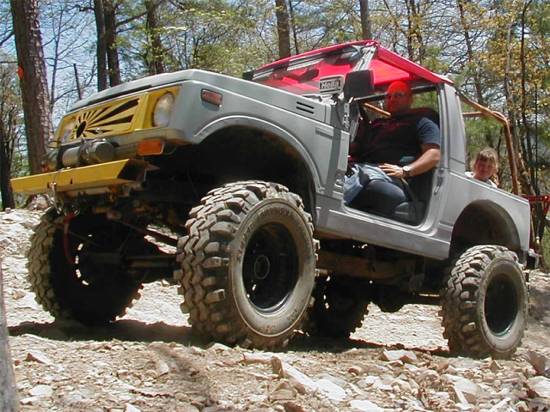 And a lot of mud to play in ;-)